Culture Change Best Practices:
Community Life
Community Life is a relatively new area of interest in Culture Change. This area focuses on what we historically have thought of as "Activities" or "Therapeutic Recreation." The goal behind Community Life is to move away from a 10 am and 2 pm structured activities focus, to that of a spontaneous, community-based style that meets individual resident needs in a way that is more personal and life-affirming.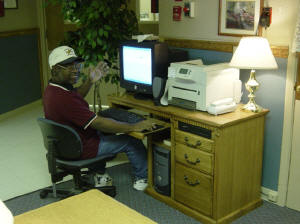 A good place to start looking at this area of interest is to examine the current medical model activities calendar. At first glance, in many homes, it would appear as though residents only are interested in religious activities or Bingo. With a 10 am and 2 pm approach to activities, what is available for residents at 6 am? 10 pm? What is happening in the home on the weekend?
In the past, activities were offered in large group settings at two major time periods during the day because they were offered around two major nursing home systems—the medication pass and dining. The only times left to facilitate a large group activity were in the spots in-between med pass and breakfast, lunch or dinner.
The Community Life approach asks nursing home professionals to stop thinking of activities in the terms of large scale group offerings at rigid times during the day. Rather, Community Life asks us to break down activity offerings into smaller, more manageable and more spontaneous "happenings."
Larger scale activities may still be offered, but in a truly culturally-changed home, primary care nursing assistants are offered the opportunity to sit down with the "neighbors" that they care for and share a cup of coffee, play with the neighborhood cat, or just share stories about children. In this aspect, Community Life becomes everyone's responsibility.